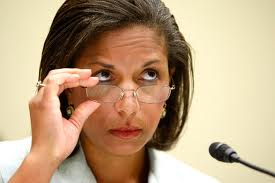 HYPOCRISY! The devil herself!
Russia and China's veto of the UN Security Council resolution
which condemned Syria over its brutal crackdown on anti-government protesters and contained
a weak reference to the possibility of sanctions against Damascus proved (again) one thing – that despite torrents of soaring rhetoric to the contrary by our leaders, international politics is
not
about doing what is right and in the best interests of all nations and peoples, it's only about the short-term, short-sighted, political self-interest of leaders and their governments. And the statement by U.S. ambassador Susan Rice, described by the
New York Times
as "one of her most bellicose speeches in the Council chamber",
was pure, unadultered hypocrisy at its most naked
.
But let us first of all be clear about the meaning of hypocrisy (hypocrite is from hypokrite, the ancient Greek for actor). The definitions of hypocrisy are "a feigning to be what one is not or to believe what one does not… the false assumption of an appearance of virtue or religion." The synonyms for hypocrisy are "cant… dissembling… insincerity… piousness." The antonyms are "genuineness… sincerity."
If I was contributing to the updating of dictionaries, I would add another definition of hypocrisy – American foreign policy.
In her statement after Russia and China had vetoed and before she walked out of the Council chamber, Susan Rice said: "The United States is outraged that this council has utterly failed to address an urgent moral challenge and a growing threat to regional peace and security."
This is, of course, the same Susan Rice who will cast the U.S. veto to kill the Palestinians' bid for Security Council recognition of their statehood (if the bid gets to the Security Council). It is apparently of no concern to her and her master that the Security Council has utterly failed, time and time again, to address the criminal policies of the Zionist (not Jewish) state of Israel, policies which present a far more urgent moral challenge and growing threat to regional peace and security than what Bashar al-Assad's monster regime is doing in Syria.
Rice also said: "Today the courageous people of Syria can now see who on this Council supports their yearning for liberty and universal human rights and who does not."
Quite so, madam ambassador, but is it of no concern to you that almost the whole world (of peoples not governments) is aware of who on the Security Council supports the Palestinian yearning for liberty and universal human rights and who does not?
If there was a Nobel prize for hypocrisy, Susan Rice would have to be added to the list of nominees for it along with President Obama and Israeli Prime Minister Netanyahu.
(Question: What do those two gentlemen have in common? Answer: In the context of targeted assassinations, it can be said that both are cold-blooded killers).
On another matter… The jury in my mind is still out on the question of whether or not professor Shlomo Avineri, the Polish-born Israeli political scientist, is a hypocrite. His most recent article is in Ha'aretz with the headline No realistic chance of permanent Middle East peace. The following is its opening paragraph.
"In his speech to the UN General Assembly, Palestinian President Mahmoud Abbas once again made a common Palestinian mistake: a Palestinian leader does not have to persuade the nations of the world, but rather the Israelis. A Palestinian state will arise only if the Palestinians convince the Israelis that they are indeed ready to live in peace and mutual recognition."
In theory that makes a lot of sense, but it ignores the fact that most Israeli Jews have been brainwashed by Zionist propaganda and, as a consequence, need to feel threatened, need to believe they are the victims and not the oppressors. Put another way, most Israeli Jews do not want to believe that the Palestinians (the vast majority of them) have long been ready for peace on terms which any rational government and people in Israel would have accepted with relief.
That being so, there isn't a snowball's chance in hell of peace unless and until an American president has the freedom and the courage to use his leverage to compel Israel to end its occupation of all Arab land grabbed in 1967.
Handy evidence of how Washington really sees Israel and the Zionist lobby (hint; like a lover who never gives back)
One (via
Politico
):
U.N. Am­bas­sador Susan Rice briefed a dozen top Amer­i­can Jew­ish lead­ers on an "all out," if likely doomed, Amer­i­can ef­fort to de­rail the Pales­tin­ian bid for a vote on state­hood at the United Na­tions, ac­cord­ing to three peo­ple at the meet­ing.
Rice met with the lead­ers at her apart­ment at the Wal­dorf As­to­ria in New York this morn­ing in the run-up to a Pales­tin­ian ef­fort that could in­clude a vote in the Se­cu­rity Coun­cil or in the Gen­eral As­sem­bly, or both, next week. The U.S. has pledged to veto the for­mer, and is also — Rice told the lead­ers — work­ing to con­vince Eu­ro­pean and African coun­tries to ab­stain from the vote, deny­ing it the nine of fif­teen votes re­quired to pass the Se­cu­rity Coun­cil.
The U.S. is also whip­ping votes in the Gen­eral As­sem­bly in hopes of, at least, cut­ting into its mar­gin of vic­tory, Rice told at­ten­dees. Is­rael and the U.S. for­mally back Pales­tin­ian state­hood, but op­pose pass­ing it through the United Na­tions while ne­go­ti­a­tions are stalled in the re­gion, a mea­sure they argue could desta­bi­lize the re­gion and dele­git­imize Is­rael.
"She didn't have a starry-eyed ap­proach," one of the Jew­ish lead­ers told POLITICO. "There's an aware­ness both on her part and on our part that as­sum­ing that the Pales­tini­ans go ahead with the res­o­lu­tion it's going to pass the Gen­eral As­sem­bly and it's going to pass by a com­fort­able mar­gin."
Two of the lead­ers of Jew­ish or­ga­ni­za­tions in the room de­scribed it as a warm meet­ing, with at­ten­dees ex­press­ing their grat­i­tude for the Ad­min­is­tra­tions work. Mal­colm Hoen­lein, who runs the Con­fer­ence of Pres­i­dents of Major Jew­ish Or­ga­ni­za­tions and has at times been an Ad­min­is­tra­tion critic told Rice the Ad­min­is­tra­tion gets less credit than it de­served, an­other guest said.
"Every­body rec­og­nized that it does make a dif­fer­ence what that ul­ti­mate vote looks like, and every neg­a­tive or ab­sten­tion you get is going to be help­ful and is going to be valu­able," the first source said. The Eu­ro­peans, in par­tic­u­lar, are a cru­cial bloc: There has been dis­cus­sion of their push­ing for a wa­tered down res­o­lu­tion and a for­mal state­ment from the "Quar­tet" of key in­ter­na­tional ac­tors in ex­change for their sup­port, and fail­ing that, the U.S. hopes it can win their "no" votes or ab­sten­tions.
The at­ten­dees, ac­cord­ing to one of the peo­ple in the room, were AIPAC's Lee Rosen­berg; World Jew­ish Con­gress chief Ron Lauder; the Amer­i­can Jew­ish Com­mit­tee's David Har­ris; the Anti-Defama­tion League's Abe Fox­man; Hoen­lein; Daniel Mari­aschin of B'Nai B'rith; Rabbi Steve Gutow of the Jew­ish Coun­cil on Pub­lic Af­fairs; Peace Now's Mar­tin Bresler; J Street's Je­remy Ben-Ami; Rabbi Eric Yoffie of the Union for Re­form Ju­daism; Rabbi Julie Schon­feld of the Rab­bini­cal As­sem­bly; and Rabbi Steven Weil of the Or­tho­dox Union.
Two (via
JTA
):
At the United Na­tions, where Is­rael has be­come the fa­vorite tar­get of con­dem­na­tory res­o­lu­tions, com­mit­tees and de­bates, the United States re­mains Is­rael's most stead­fast and de­pend­able ally.
So when I sat down last week with Susan E. Rice, the U.S. am­bas­sador to the United Na­tions, there was one ques­tion on my mind: How much of your job is spent on Is­rael?
"This week?" she said. "A hun­dred per­cent." She laughed, say­ing she was only being a lit­tle bit face­tious.
Then she turned se­ri­ous.
"It's a sig­nif­i­cant part of my job. It's not the ma­jor­ity of my time, be­cause I am the U.S. per­ma­nent rep­re­sen­ta­tive," Rice said. "But it is never the small­est piece. It is al­ways there."
One week it might be the Gold­stone re­port on the Gaza War, an­other week it might be the re­port on the Turk­ish flotilla to Gaza or Is­rael's Op­er­a­tion Cast Lead or the Dur­ban re­view con­fer­ence, she said.
"It's a lot."
That's fod­der for de­trac­tors who ac­cuse the United States of doing Is­rael's bid­ding, or worse. But Rice says it's noth­ing of the kind.
"We're doing what we think is right," she told me.